Exterior Photo of Shinnecock Nation Cultural Center with Dugout Canoe (RonnieB LoveLee)
Continuing on our exploration of Historical Museums of the Hamptons, let's visit the home of our earliest settlers, the Shinnecock People - who came here over 10,000 years ago!
Shinnecock Nation Cultural Center & Museum
100 Montauk Highway and West Gate Road, Southampton 631.287.4923
Established in 2001 as the only non-governmental, not-for-profit, Native American owned and operated organization on Long Island dedicated to honoring the Ancestors and living history as Algonquin descendants.

The Museum exhibits Shinnecock history spanning over the 10,000 years 'The People' have inhabited this area now called Long Island.

Built from Adirondack white pine, the facilities contain 5,000 square feet of exhibition space.
Detail from '10,000 Years of Hunting and Fishing on Long Island' Exhibit at Shinnecock Museum (Matt Ballard)
The Museum has recently added some new items (originally on display at the Southampton Historical Museum) to the permanent display – A Walk with the People. The new exhibit - '10,000 Years of Hunting and Fishing on Long Island' illustrates the different time periods of Shinnecock history: Paleolithic, Archaic, Woodland and Historic periods.
Paintings of a Shinnecock Man and Woman - 'Shinnecock History' from Southampton Elementary Schools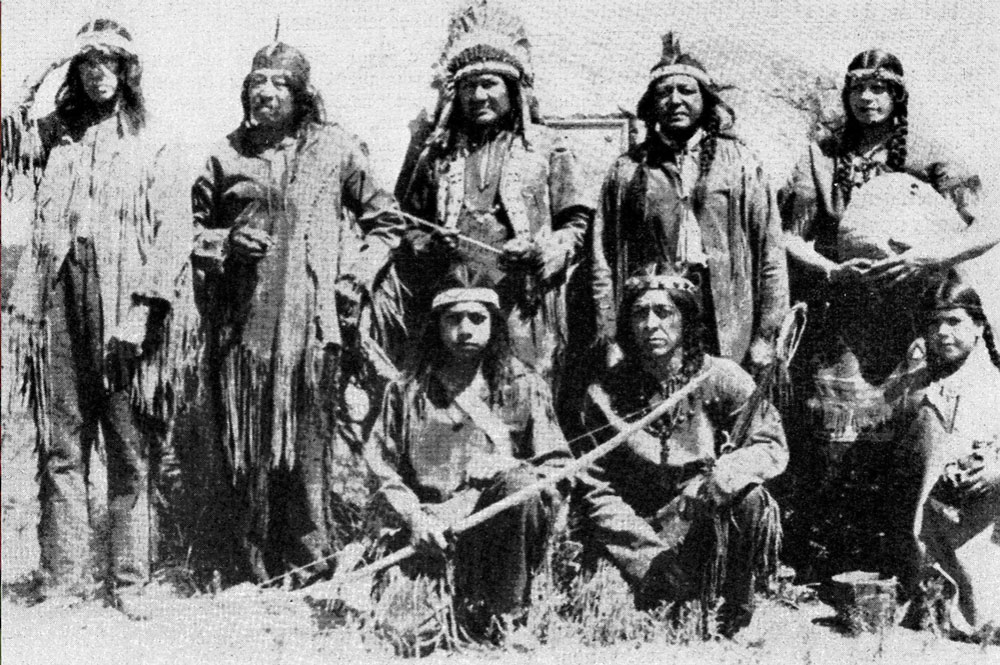 B&W Photo of Shinnecock Men at Conscience Point, Circa 1940 from 'On This Site'
East Hampton Star (1997): Long Island Books: Algonquian Peoples
The Algonquian Peoples of Long Island From Earliest Times to 1700

by John A. Strong, Illustrated by David Bunn Martine

Mr. Strong, professor of history and director of the social science division at Southampton College of Long Island University has examined archeological digs, anthropological findings, contemporary records, and oral histories, alongside reports by 17th-century observers, as he pieced together the lives lived by the Algonquian peoples. The result is a scholarly, yet accessible and constantly fascinating book.

Mr. Strong paints the picture of a lost Eden, a vibrant society of peace and plenty on pre-European Long Island. The first inhabitants seem actually to fit the idealized image of native life that has often been imagined for them. He finds no evidence of the warfare that dominated the lives of the Iroquois to the north.

The arrival of Europeans in 1524 brought this idyllic life to an end . . .
Photograph of Jeremy Dennis, Photographer and Creator of 'On This Site'
On This Site: An art-based photography project by Shinnecock artist Jeremy Dennis. The purpose of this project is to preserve and create awareness of culturally significant Native American locations on Long Island, New York.
Shinnecock Museum Exhibition of Photographs by Jeremy Dennis 'On This Site'
Labor Day Weekend is the time to experience the annual Shinnecock Indian Powwow in Southampton, NY
'

The Shinnecock Indian Powwow

is one of the largest Native American Gatherings on the East Coast

Native drum groups and dancers compete for over $50,000 in prize money.

Over 100 Native American arts, crafts and food vendors from all over the Americas are set up at the powwow.

Cultural enrichment and the opportunity for cultural education abounds as Native American representatives from every region are available to demonstrate and share their stories to all who ask.

Each day there is competitive dancing, guest entertainment, prayers, ceremonial dances, the acknowledgement of sponsors and visiting dignitaries.

'We honor our veterans for protecting this life as we know it.'

The Shinnecock Indian Powwow concludes Monday evening at 6pm with the awarding of prizes to the competing drums and dancers.
The Shinnecock Indian Powwow - Photo by Matt Ballard
So much to learn and explore!
Sylvia