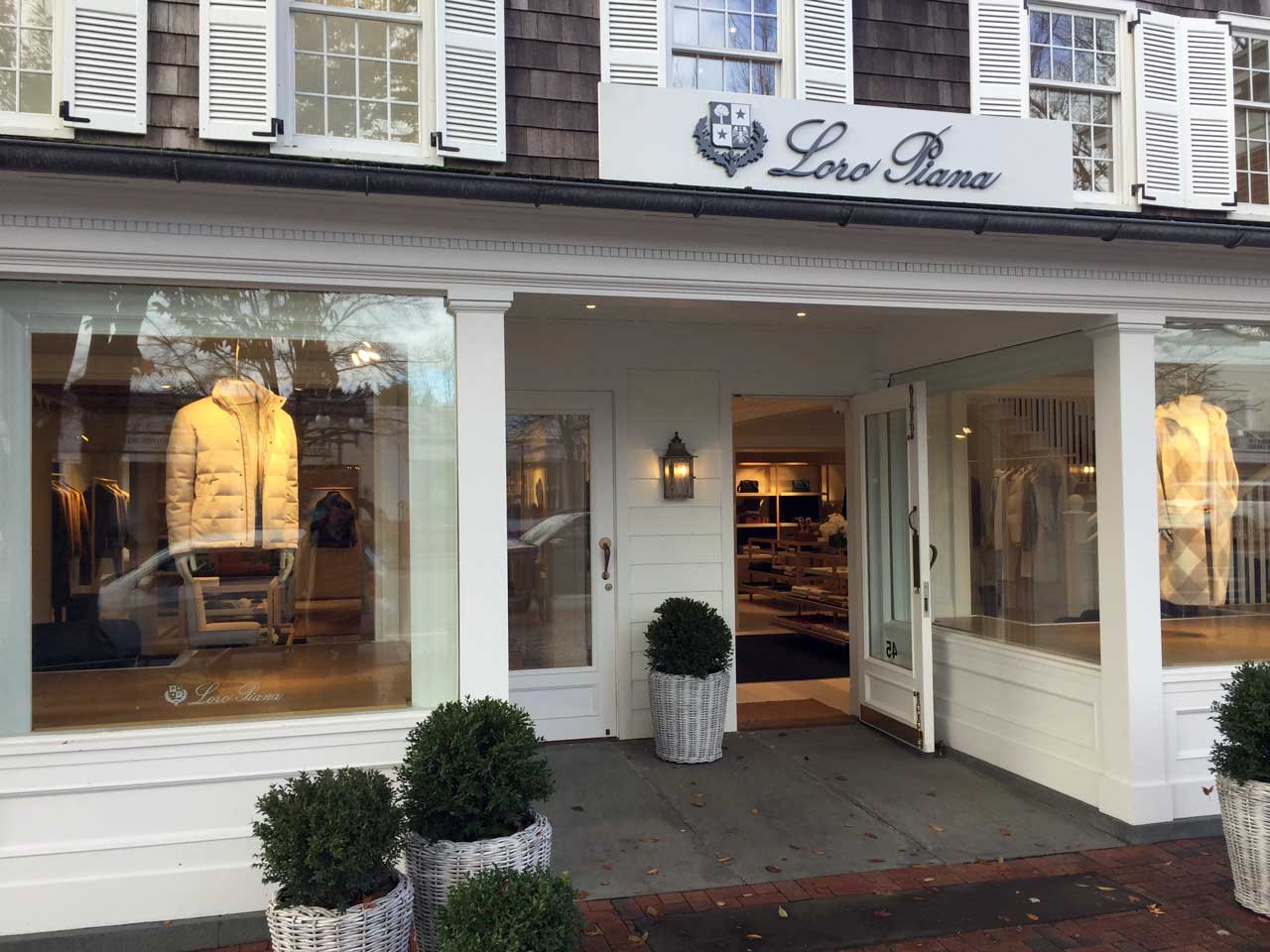 Loro Piana - East Hampton Main Street
So here we go again - shopping on Main Street in the beautiful Village of East Hampton!  Who knew the fabulous stories we would find? As well as the marvelous merchandise . . .
Loro Piana
45 Main Street, East Hampton NY  631-527-2013
They were known as the "Queen of the Andes" in the Pre-Columbian era - there were three million of these golden brown, ultra soft Vicuñas roaming the mountain plateaus of Peru. Their precious fleece was sacred to the Inca Emperors. Like most things wild and beautiful, man hunted them close to extinction. Even with strict conservation laws in place, the onslaught continued. From the day of the conquistador's arrival, hunting and later poaching reduced the population from three million to under five thousand.
In 1994 Loro Piana, as head of the International Vicuña Consortium, entered into an agreement to gently and humanely shear the wool from the re-populating Vicuña. This established the first private nature preserve in Peru, the Dr. Franco Loro Piana Preserve. Today the Vicuña thrive in the Andes.
Piana continued his efforts in Argentina where the Vicuña live at much higher altitudes. This change in landscape caused the fleece to be much lighter in color, almost white. Again Dr. Piana defeated the poachers as a gently sheared animal has virtually no value. His designers well appreciated the natural beauty of this almost white fleece carefully sheared from select animals. Every June this story is well documented by the respect shown to the Vicuña as five centuries of tradition are celebrated by song and dance.
Loro Piana Vicuna
In Australia and New Zealand, the Merino Sheep yields wool often referred to as the 'Gift of the Kings.' Pier Luigi Loro Piana has instituted a challenge to the farmers who produce four million bales per year. In the 'Pursuit of Excellence,' a prize goes to the two finest bales of wool each year. Beat the previous record and you are awarded a World Record Bale, the best of the best. It's not so much about the award but encouraging the growers to pursue continued excellence. Just as the Vicuña with it's alternative white as snow shade is prized; the Pecora Nera from New Zealand is the proverbial 'black sheep' - a naturally dark tone, ultra soft high-quality wool.
Clothing can too often be trendy and all about new and shiny. In this case, Loro Piana occupies a place associated with class and sophistication; there is a backstory here that is so special it literally knocks your socks off. That is, of course, if they are 'LP' Cashmere Bobby Socks! Seriously, everything at Loro Piana is about style and class - hand sourced materials that demonstrate the utmost respect for our planet, complemented by sophisticated designers and tailors and the belief that less is quite often much more!
Obligato - East Hampton Main Street
Obligato
47 Main Street, East Hampton NY 631-324-6464
Obligato refers to a piece of music that has become indispensable. It may be a part of a theme that is so often repeated, it becomes essential. In classical music, the masters - Mozart, Beethoven, Bach - often referred to the cello or piano as obligato - a piece that might stand on its own while having the utmost importance to the whole.
Obligato in East Hampton (and also Knoxville) curate the indispensable just for you. For over thirty years they have been your trendy, cool, comfy women's boutique, always seeking out the newest most sought after brands.
"Looking for that perfect dress? How about the season's latest romper or jumpsuit? Maybe even a nice kimono or cardigan? Did someone say skinny jeans? Ooo shoes, yes how about shoes?! No worries, we have you totally covered! From urban to classic, from workday to weekend, we recognize the importance of a diverse wardrobe and seek to provide trendy styles."
Have a look at either store's website, view the summer's essentials on Instagram. You will be amazed at the  'new arrivals' for the season, but remember what is truly obligato at Obligato is a visit to the shop, a bit of conversation, a moment of window shopping and ultimately finding what you find yourself obliged to take home.
What Goes Around Comes Around - East Hampton Main Street
What Goes Around Comes Around
48 Main Street, East Hampton NY  631-324-0874
Always buy the very best - there is a certain style that remains timeless in a truly vintage piece. And a quality of build and design that outlasts time itself! Watches, Jewelry, Apparel, and Accessories are all better the second time around. WGACA began in Soho in 1993 and, since that first store, has expanded to Miami, Beverly Hills and East Hampton.
Luxury-Vintage shopping has become a one of a kind high fashion experience. Watches and Jewelry are often classic estate items and the territory of specialty auction houses. WGACA has reinvented the vintage market and expanded the prize. Not only is the original provenance cool, but your newest wardrobe acquisition may have starred in a recent Oscar winning movie or on the Broadway stage. Ultimately you find what's just right for your personal style or look and will not see it being worn by everyone else! WGACA features the most prominent brands and hard to find items: specialty vintage Levis or antique tee shirts for the Downtown Cool Look; or a Hermes Ostrich Motorcycle Jacket and a Chanel Leather Charm Choker for the Uptown Look!
You can trust in What Goes Around Comes Around. They guarantee authenticity with a triple inspection-verification process. They curate collections and will find the exact addition perfect for your specialty collection. Your individuality is assured as pieces are often one of a kind, just off the fashion runway. You can also feel a sense of global sustainability as you re-purpose rather than buy new. You are creating a cycle of preservation and contributing to the Legacy of Fashion as Art!
Brandy Melville - East Hampton Main Street
Brandy Melville
50 Main Street, East Hampton NY  631-604-5660
Way back in 1970, almost 50 years ago, yes I know - older than most of my readers! Back on track now, Silvio Marsan created the clothing, fashion and accessory brand for teenage girls and young women named Brandy Melville.
Silvio had a bit of heritage in the clothing business when he began his new venture, he was producing merchandise for numerous famous Italian brands. Once he joined forces with his son Stephan, Brandy Melville has grown exponentially. The brand now resides in twenty-plus countries and has over seventy stores.
Brandy Melville has a great website, simple and to the point. What I like most is the 'Lookbook' - great pictures [Instagram-like, some with links to their Instagram page] and a click away is everything you need to shop, online or at the store. So have a look at the Lookbook and the Just-In page before you shop and you will be speaking Italian at Citta Nuova by lunchtime.
Dylan's Candy Bar - East Hampton Main Street
Dylan's Candy Bar
52 Main Street, East Hampton NY 11937  631-324-6181
A Nostalgia Collection, Paint Cans, Tackle Boxes and Soda Cans all filled with your choice of Dylan's Confections. Entire collections devoted to Harry Potter, Grease 'The Musical' and Crayola Crayons. Top it off with a variety of Gold Collections and the novelty of Saltwater Taffy, Jelly Beans and Gummy Bears.
With seven thousand, YES 7,000! edible treats, there is something for everyone at Dylan's! A short list of their fans reads like a Hollywood-Hamptons who's who list. Fans include Michelle Obama, Oprah Winfrey, Madonna, Janet Jackson, David Beckham, Steven Spielberg, Al Pacino, Hugh Jackman, and Tom Cruise.
If you're entertaining, a trip to the Candy Bar will give you the makings of something special for every guest. Thinking Gingerbread houses for the holidays? Dylan's is the proverbial Home Depot Run for Gingerbread House construction. This is honestly the ultimate sugar rush.
Milly Chromatic - East Hampton Main Street
Milly Chromatic
54 Main Street, East Hampton NY 631-604-6544
Designer Michelle Smith transforms classic silhouettes by merging American sportswear influences with distinctive Parisian atelier techniques. Smith's eye for impeccable detail, use of luxurious, cutting-edge fabrics and precise tailoring have made Milly a cult favorite across the globe.
Convinced from a very early age that fashion design was her calling, Smith earned a scholarship to Moore College of art and design to study fashion illustration. She later followed her passion to New York's Fashion Institute of Technology. Smith worked at the Hermés boutique in Manhattan to help fund her tuition. Upon graduation, she wrote to the president of Hermés requesting an internship at the Paris headquarters. Her request was granted, making Michelle Smith the first American Hermés employee sent to work in Paris with the legendary fashion house. While in Paris, Smith continued her studies at the prestigious design school Esmod while interning at Louis Vuitton, Torrente, and Christian Dior Haute Couture. Smith returned home to New York three years later, intent on establishing her own design business and founded Milly.
Jennifer Miller - East Hampton Main Street
Jennifer Miller Jewelry
55 Main St, East Hampton, NY 11937  631-329-9061
East Hampton - Southampton - NYC - Palm Beach - South Beach
With a collection of beachfront locations, a reputation of giving back - from Breast Cancer to Trunk Shows designed to benefit the hostess's charity of choice - and appearances on Oprah, The View, and Today, Jennifer Miller has established a well-known brand.
Before shopping the at any JMJ location I suggest you look at the Instagram listings on the JMJ Web Site - the Art of Jewelry design and presentation personified. And after shopping, there may still be room on your AMEX card for dinner at The 1770 House!
"Jennifer Miller collaborates with some of the most well known and respected designers from around the world. She is renowned for having the most exclusive and well-edited collection of fine and faux jewelry, as well as a phenomenal selection of handbags, home accessories, and clothing."
And there is still more for next week!
Gary